Service Tools
Many advantages with our service tools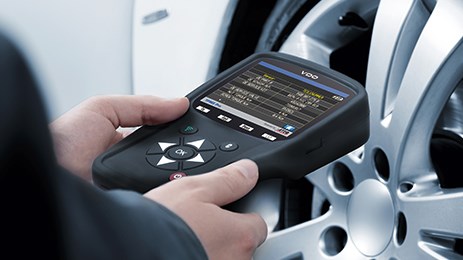 The requirements placed on test devices are constantly growing. Vehicle systems are becoming more and more complex nowadays and need test technology that meets all these demands. With the ContiSys Check we offer the right solution for you. Compact, easy to use, and ready for extension by the TPMS module and the actuator tool. The ContiSys Check is always up-to-date thanks to optional software updates.
VDO TPMS Pro / VDO TPMS Pro Print

VDO TPMS Pro
The VDO TPMS Pro is a high-performance, compact and universal testing and programming device for tire pressure measuring sensors (TPMS) from a large number of vehicle manufacturers. Equipped with the latest scanning technology, sensors are very rapidly read out, checked and where necessary re-coded.
Thanks to icon-based navigation on the high-resolution 4.3 inch color display, scrolling through several menus and functions is very easy, enabling the user to work efficiently. This is why the VDO TPMS Pro is ideally adapted to the needs of the engineers.
TPMS sensors can be checked without any problem using the VDO TPMS Pro. In addition, the battery status, the temperature and the tire pressure of the respective TPMS sensor (and more besides) can be displayed.
An extensive database is integrated into the VDO TPMS Pro and contains much information on the TPMS sensors, such as spare part numbers or torques – and that both ensures the quality of their work and makes that work much easier.
Using the VDO TPMS Pro, universal sensors of various manufacturers can be programmed. A choice between the functions "Create" and "Copy" can be made here.The newly programmed TPMS sensors can, depending on the vehicle model, be imported into the TPMS control unit and taught via the OBDII link. Furthermore, errors in TPMS systems can be read out and deleted via the OBDII interface. With the integrated barcode reader, the VDO TPMS Pro is well prepared for future functions.
VDO TPMS Pro Print

The VDO TPMS Pro Print transmits the relevant data via an infrared link to the printer integrated into the Doc Station. That allows printouts to be made quickly and easily. The Doc Station is available as an optional accessory for the VDO TPMS Pro too.

The purchase price for VDO TPMS Pro and VDO TPMS Pro Print already includes software updates for the first year. After that you can subscribe to annual updates.
Description
Innovative 4.3" color display
Clearly laid-out menu
Learning of OEMs, Universal TPMS sensors using OBDll interface
Display of sensor information
Display of vehicle information
Display of actual values from read-out sensors
Data transmission via USB, WIFI and SD card
Multilingual
Integrated help
Barcode scanner
Infrared link for printer
Reading and deletion of TPMS error codes
Programming of Universal TPMS sensors

Alligator sens.it
HUF IntelliSens
Schrader EZ sensor
T-Pro
Package contents: VDO TPMS Pro handheld unit
OBDII cable
USB data cable
ChargerQuick-start instructions
VDO ContiSys Check / Autodiagnos Check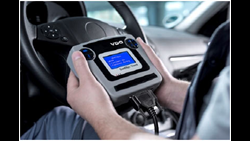 Easy, fast and reliable – the latest service tool from VDO.
ContiSys Check is the successor to the popular ContiSys OBD Professional service tool. The new device is compact, easy to use and, thanks to optional software updates, always up-to-date.
The ContiSys Check, with its large memory along with the integrated multiplexer and CAN controller, offers powerful hardware, whose great flexibility ensures that it is ready for the solutions of the future.
With our FastCheck applications in the basic version of the ContiSys Check you can test devices such as ABS/ESP, SRS (airbags and belt tensioners), electric parking brakes (EPB), tire pressure control systems or air conditioning systems more easily and quickly than ever before.
FastCheck applications
ABS/ESP incl. MB SBC
airbag (SRS restraint systems)
EPB (electric parking brake)
air conditioning
LWS (steering angle sensors)
service (inspection and oil service reset)
TPMS (tire pressure monitoring systems)
CR diesel injector coding
gearboxes (ASG & VAG DSG)
The available functions also include resetting service interval displays, calibrating VAG DSG systems, the correct adjustment of steering angle sensors and the necessary coding of engine control units when changing from CR diesel injectors. A valuable addition to the services you offer.Thanks to its optimized hardware it is extremely well-prepared for future functionality. For example, it can be extended with the optional TPMS frequency module. Additional functions will follow suit.
ContiSys Check TPMS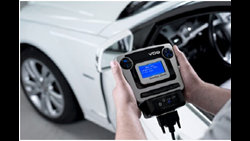 Be ready for the future now
Based on the ContiSys Check service tool, this variant is particularly oriented to TPMS tire pressure monitoring systems.
All the functions of the ContiSys Check service tool, with the additional facility of being able to read and display data directly from tire pressure sensors.
Why tire pressure monitoring systems?
Tire pressure monitoring systems increase safety, and by ensuring correct tire pressure they contribute to lower fuel consumption and reduced tire wear. For these amongst other reasons, the European Union has decided that tire pressure monitoring systems should be introduced in Europe.
According to EC Directive 661/2009, Article 9
all new type-approved vehicle models of Class M1* as from 01 November 2012
all new vehicles of Class M1 as from 01 November 2014
must be fitted with a tire pressure monitoring system.
These systems warn the driver when the pressure of tire, once warmed up, falls 20% below the normal value.
Frequency module communicates with wheel sensors
The ContiSys Check TPMS incorporates a frequency module for reading out the sensor data from tire pressure monitoring systems. This allows sensor data such as pressure, temperature and battery status to be read out directly through the wireless connection, and saved if required. At the same time, ContiSys Check TPMS is also able to use the service functions of the tire pressure monitoring system via the OBD interface (FastCheck TPMS). The ContiSys Check TPMS and the basic ContiSys Check device only differ in the extended software function and the TPMS frequency module that is bolted on. This module houses a rechargeable battery block which supplies the device with electrical power for up to 2 hours continuously, independently of the vehicle power system. If desired, the frequency module can be retrofitted to basic devices that you already have.
ContiSys TPMS Aktivator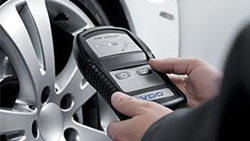 The sensors used by the different manufacturers of older vehicle models need a separate activation process.
The compact, practical TPMS Aktivator Tool is particularly suited to this job.